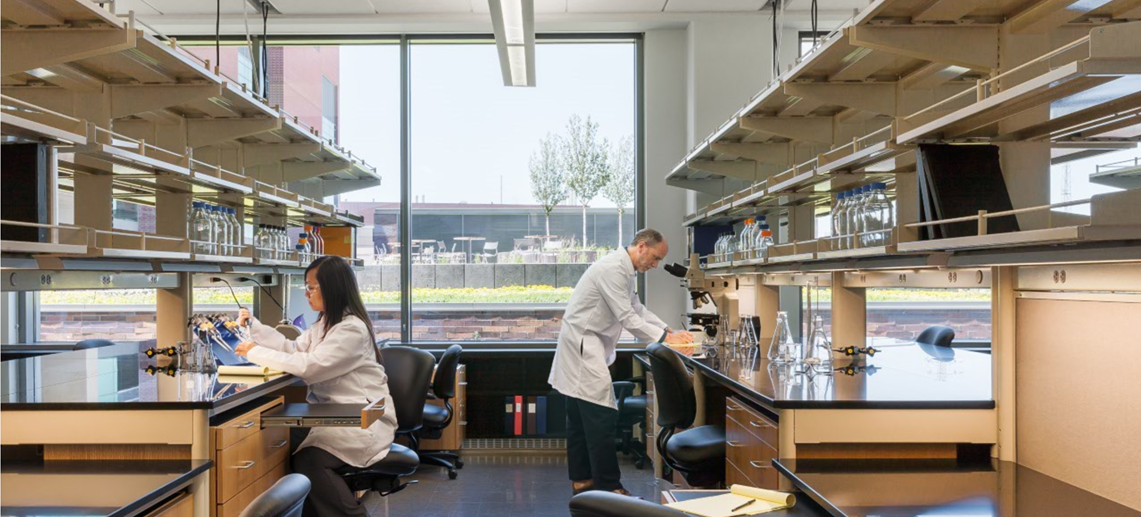 Finding the Right Existing Space for Your Laboratory
by Mamie Harvey, AIA, LEED AP BD+C; Anna Pravinata, AIA, LEED AP, NOMA; and Kristen Salkas, AIA
The research industry is booming.  Universities and corporations are looking to expand their research and development capabilities in a quick and cost-effective manner, while incorporating new benchmarks in research standards and hybrid workplace models. How can this need for more agile and flexible laboratory space be addressed? Through adaptive reuse. By converting an existing non-science building or space into research labs, an economical and flexible environment can be achieved on a compressed timeline. There are specific laboratory planning principles that can help guide finding the best match for your new laboratory space. Two essential aspects of creating a successful lab environment in the adaptive reuse context are:
Building framework that will support laboratory safety and efficiency.

Space characteristics that can enhance engagement toward innovation.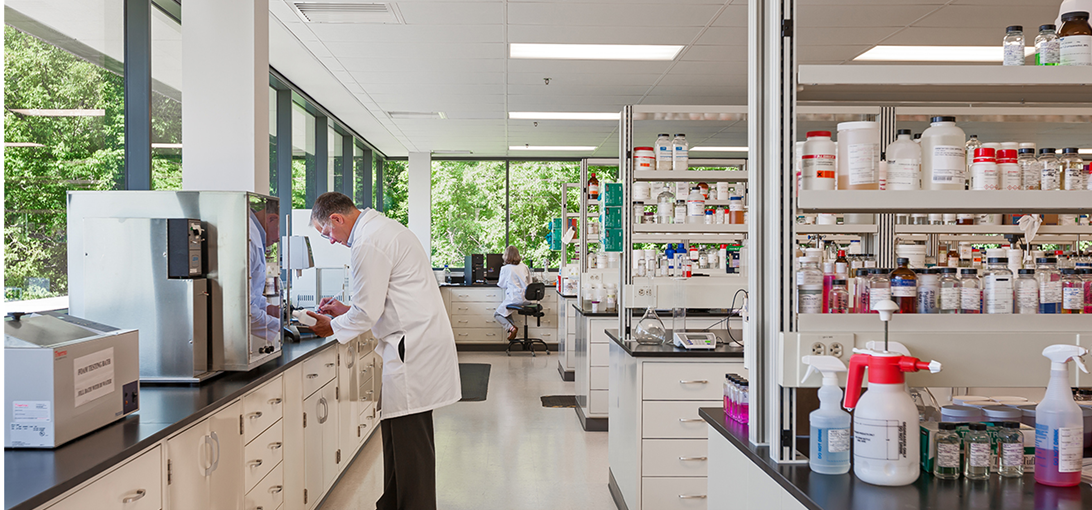 Building Framework:  The list below identifies specific physical aspects of an existing building that will support a safe and effective laboratory space.
– Typical Open Lab Configuration
Ample floor to floor heights (13' to 15') to accommodate larger ductwork and other infrastructure in the ceiling space.

Robust floor loading capacity (100 to 150 lbs/sf) to accommodate heavy equipment and provide a more stable (with less vibration) floor for research work.


– Floor Loading Study of University of Minnesota Tate Hall
Loading dock area that can accommodate separation of materials, e.g. outgoing biohazard waste versus incoming tissue samples.
Control areas – depending on the chemical usage of the labs, the building may need to be separated into several control areas with fire-rated walls.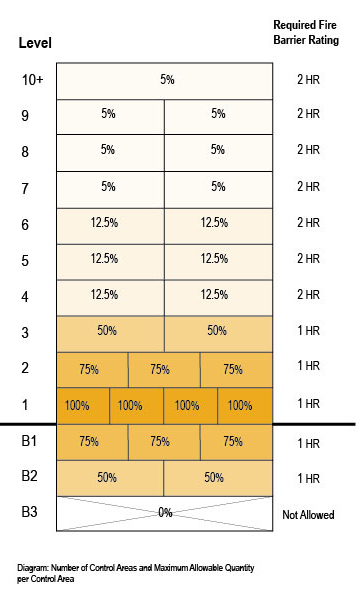 – Building Section Showing Number of Control Areas and Maximum Allowable Quantity of Chemical
HVAC both for initial construction and ongoing operations. Most labs require single-pass HVAC systems, and many require a minimum of six air exchanges per hour with continuous exhaust ventilation.
Buildings or spaces that meet the above physical attributes, or are able to with minimal modifications, will make for the most successful lab conversion. Once a building or space is identified, a design that supports lab processes and a promotes a healthy workplace is critical to creating a space that fosters innovation.
Space Characteristics that Enhance Engagement and Innovation: Traditional models of space allocation are changing for the research and development sector. There is a growing need for agile work environments that integrates labs, shared core facilities, office space, and office amenities. The integration of these spaces boosts collaboration, productivity, innovation, and creativity. To allow for this integration, the following are key driving forces:
Right mix and balance of space types

Open lab bench area – less uniquely assigned and shared areas between researchers and departments

Specialized Labs – spaces for unique environmental requirements, e.g., GMP, robotics, clean rooms, or computational sciences

Shared core facilities – equipment and resources located in centralized locations that promotes collaboration and reduces operating costs

Office space: private and open offices with impromptu collaboration space between lab and office space

Office amenities: break room, conference rooms, phone, huddle, quiet space, access to the outdoors, fitness areas
– Benchmark of Space Allocation for Higher Ed and Corporate Laboratory Buildings
A hub for collaboration, social interaction, and innovation. To understand how innovation is created, we need to first understand how knowledge is shared. There are two methods of knowledge sharing: explicit knowledge – individual professional knowledge, and tacit knowledge – the exchange of thoughts and ideas between people.  Tacit knowledge is dynamic, creative, and generative, and is the foundation of innovation. When people of diverse mindsets share ideas with each other, new ideas and questions emerge that spark creative thinking – this is when innovation occurs. Research labs and workspaces must be thoughtfully planned and designed to consider how they promote the transfer of tacit knowledge. The dynamic and transparent collaborative 'in-between' spaces will bring people together to share ideas and promote innovation. The subtle layers of design from architectural considerations to interior design, graphics, and wayfinding will inject meaning and foster connections that enable meaningful work for researchers and staff.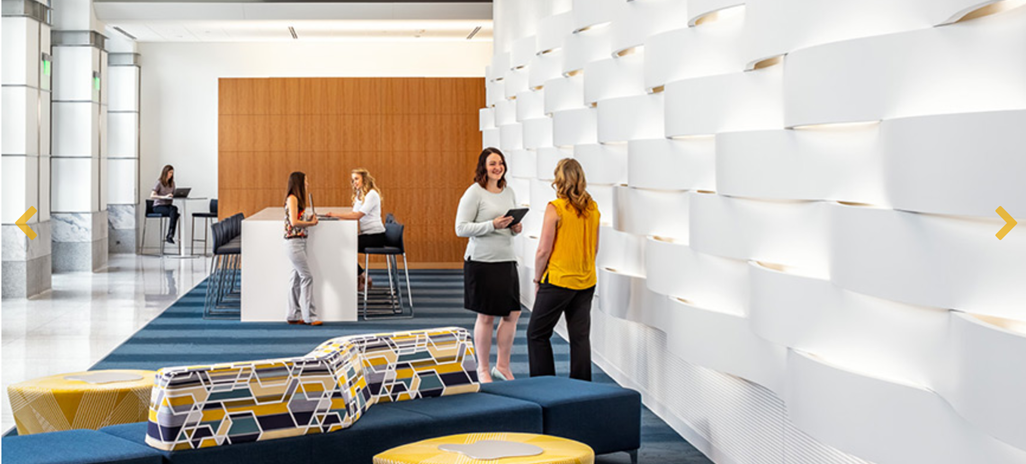 Healthy, safe, and sustainable workplace. There has been a growing focus on how the built environment, particularly the workplace, needs to foster the health and well-being of the occupants. People spend almost 90 percent of their time indoors, and salary costs in commercial buildings largely exceed investment and operational expenses. Since people are the greatest assets of any company or institution, it is important to understand how building design can address the health, safety, and well-being of the occupants which at the end will help retain talents and enhance employee performance. A few of the green building certifications (LEED, WELL, and Minnesota Sustainable Building Guideline – B3) provide guidelines on how buildings and organizations can address this aspect of workplace design. The focus on health and well-being will require amenity rich spaces, such as quiet spaces, roof decks, fitness centers, and access to the outdoors to promote mental and physical health of the occupants. These amenities have been proven to promote restoration, relaxation, and relief from fatigue or anxiety.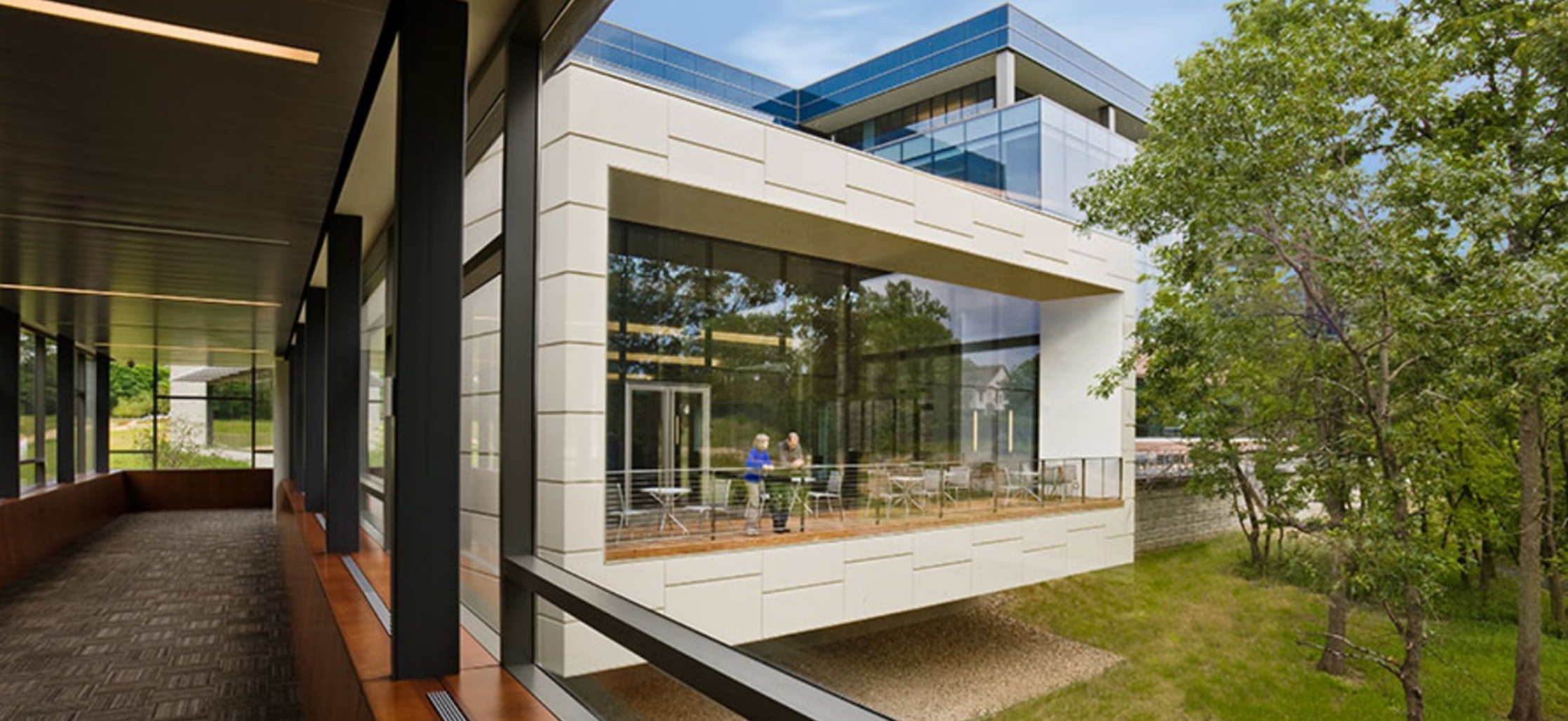 Repurposing space for research labs brings an exciting new energy to existing spaces. It is equally essential to attend to the multitude of technical laboratory design as well as to create engaging spaces that employees feel inspired by and want to come to work in. Balancing these two aspects will ensure exceptional research environments that will support groundbreaking research and increase the speed of innovation.