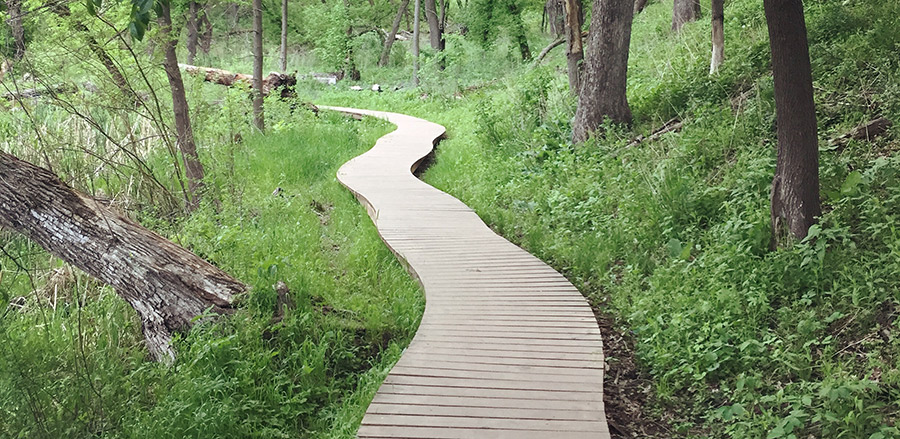 Adventures in Nature – Reinforcing our Fundamental Needs
by Paul Anderson, AIA, LEED AP BD+C and Evan Hall, AIA
COVID-19 has Twin Citians seeking nature more than ever. Being cooped up at home has placed us in front of computer screens, phones, and TV to a point where nature is the only remedy to this new extreme of cabin fever. Visiting parks are a great way to enjoy the outside, explore new places, and be in nature in a fundamentally human way.
We spoke with Sandy Breuer, the Parks Director for Washington County, to hear some of her thoughts on parks during this time. Here is what she had to say:
We have more people in the parks – especially when we were in the Governor's Stay-at-Home Order, parks were one of the only places people could go. Being outdoors is simply a way to get back to nature and experience the health benefits of outdoor recreation during a time when we are all using a lot of technology in order to work from home. The 56 metropolitan parks have a combined 56,000 acres and 400 miles of trails near any metro house to get out and explore. These parks remained opened for people to enjoy while many other places were closed.
Park adventures are therapeutic and allow us to explore the outdoors through our senses in a visceral way. When we have the freedom to explore the natural environment, whether that be within a grassy field or a grove of trees, we feel a strong connection to the peacefulness of nature and our place within it. The element of play and discovery in nature is also at the core of being outside.
Exploring new places through meandering paths along natural elements such as rivers, lakes, and geological features provides a sense of permanence and impermanence at the same time. These passageways are imprinted in our minds as a new place, invoking memories of other similar places and enhancing new cognitive memories of what place means to us personally.
For many of us, Covid-19 has allowed us to reestablish our connectedness to nature. Long-term shifts in behavior are going to change how we engage the natural environment benefiting our physical fitness and mental health. No one knows the extent of social distancing in the future, but currently, Minnesota parks near the Twin Cities metro are busier than ever. Universal accessibility to our city, state, and national parks is an essential element of American society, and this is more apparent than ever right now.
In the following weeks we will explore topics related to park design and the experience of better understanding nature and the built environment.