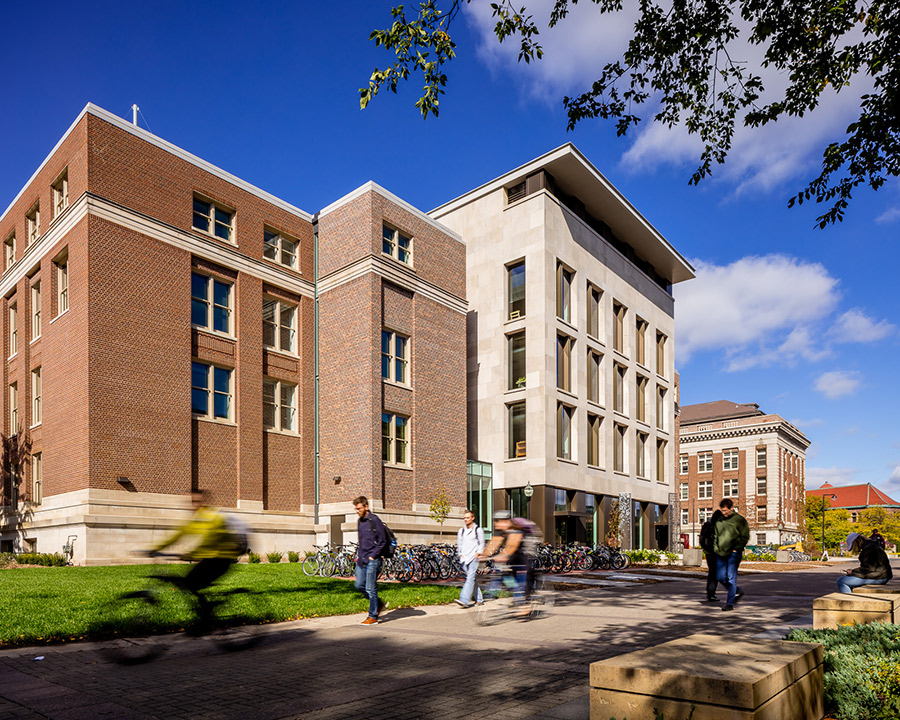 University of Minnesota John T. Tate Hall Wins 2018 Finance & Commerce Top Projects Award
The University of Minnesota John T. Tate Hall was selected by Finance & Commerce as one of the Top Projects of 2018. Sustainable, state-of-the-art, and equipped for evolving technology, the renovation of Tate Hall created a plan for the 21st century building user while respecting the original building and integrating with the larger district campus plan. Historic preservation of the building was important as it is a defining feature of the buildings along Northrup Mall. Flexible and technologically advanced teaching, office, and research spaces were designed to support building occupants for the next 100 years. Critical to the success of the project was a collaborative process involving the design and construction team, various colleges, departments, user groups, and university and government agencies to meet the needs of each party involved.
Guided by the theme of science on display, the renovation and addition present visitors, students, and researchers with the wonder of science along with the learning of science which is occurring in the building.
The renovation removed the central core and inserted a new addition into the void of the U-shaped building. The addition connects the wings of the building and accommodates new learning and graduate teaching assistant spaces. A central atrium was created bringing daylight deep into the heart of the building, enhancing faculty, researcher, and student experiences. A new central stair and elevators are positioned adjacent to the atrium.
Fueled by building limitations and constraints, the design and construction team overcame obstacles through innovative solutions and clear communication from project start to completion. All the way to precise design and installation, every partner—along with university staff and researchers—was involved to ensure it met today's demands while maintaining the historic building's distinguishable façade. The result is a world-class facility researchers, faculty, and students at the University of Minnesota will use to continue changing the future of science.
To learn more about this project, click here.