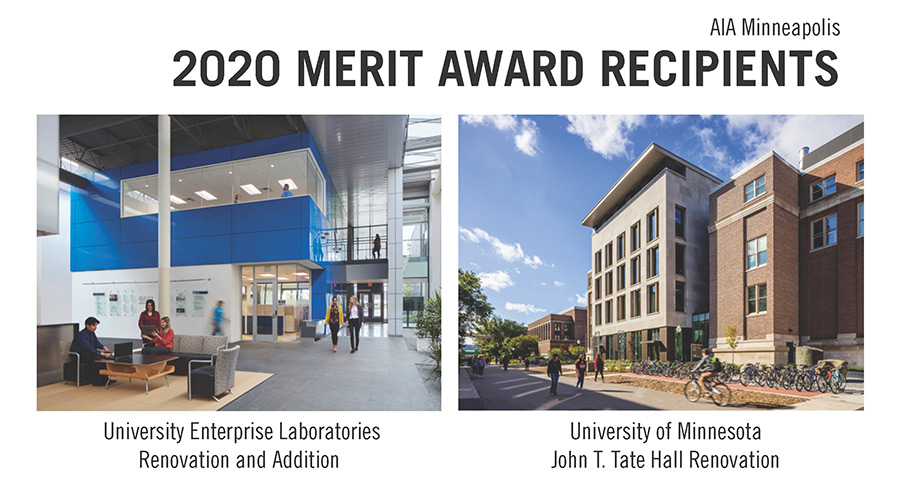 Two Alliiance Projects Receive 2020 AIA Minneapolis Merit Awards
Two Alliiance projects – the University Enterprise Laboratories Renovation and Addition as well as the University of Minnesota John T. Tate Hall Renovation – were honored with AIA Minneapolis Merit Awards. Read on to learn more about these dynamic projects.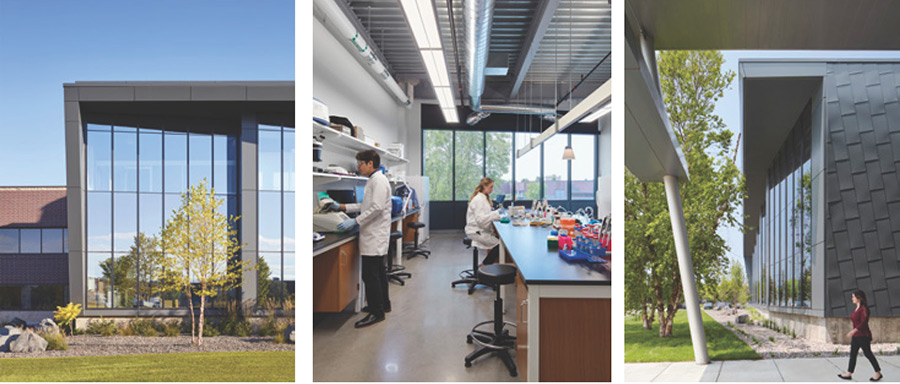 University Enterprise Laboratories
University Enterprise Laboratories (UEL) is a creative renovation, with a new addition, that transforms a nondescript warehouse into an interactive discovery incubator for new science and technology businesses. The new addition employs passive sustainable strategies and creates a contemporary front door that addresses evolving tenant needs.
There are few, if any, examples in the Twin Cities of organizations like UEL, which is dedicated to enhancing biotechnical resources for start-up companies with diverse needs. Alliiance has worked with the client since the formation of the organization to create the building program and to design the initial, Phase One, renovation. Faced with full occupancy and the demand for additional laboratory space, the 18,000 square foot Phase Two addition was completed in 2019. The success of the project is reflected by full occupancy of the original renovation and full occupancy of the new addition within two months of completion.
UEL is located conveniently in St. Paul between the University of Minnesota's Minneapolis and St. Paul campuses as part of a technology-intensive corridor supported by both cities and the University of Minnesota. The vacant warehouse was originally selected as a sustainable economic reuse of existing resources, with proximity to bus and light rail transit resources for its researchers.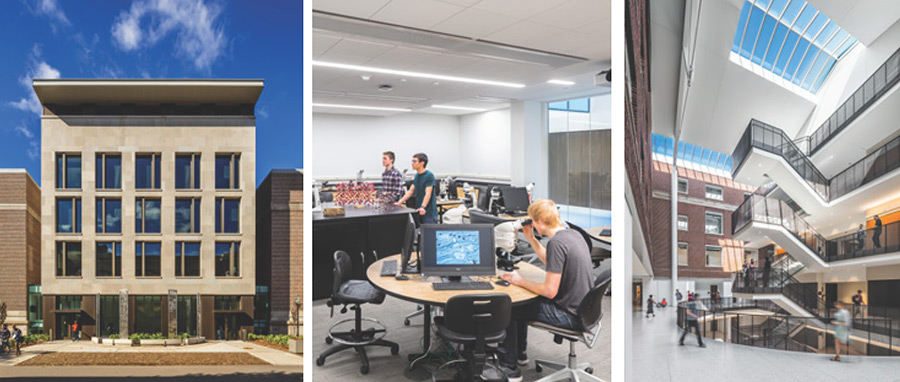 University of Minnesota John T. Tate Hall Renovation
The John T. Tate Hall Renovation reconciles the aspirations for new science teaching programs with the rehabilitation of an important historic building on the University of Minnesota campus. Originally designed as one of an ensemble of buildings that dene Northrop Mall – the signature central open space of the campus which is listed on the National Register of Historic Places – the project was required to maintain historic elements while meeting educational needs for today and flexibility for the future. The project is a comprehensive renovation and new addition, enhancing scientific interaction between faculty and students through vibrant, flexible spaces. The program addresses the laboratory and space needs of both the School of Physics and Astronomy and the Department of Earth Sciences featuring teaching and research labs, as well as state-of-the-art classrooms and rooftop stargazing deck. Previously dispersed across campus, faculty, post doctorates, graduate level, and visiting researchers within the School of Physics and Astronomy and Department of Earth Sciences are consolidated into the reinvented building allowing the university to leverage cross-departmental capabilities to create connections for research and discovery that connect the study of both earth and sky. More than 2,000 students take classes in the building daily.
The Merit Awards will be presented at a luncheon on Thursday, July 16, 2020.