The Restaurant of the Near Future
by Bruce "Albi" Albinson, LEED AP
Recently my wife and I ventured out for dinner to one of our favorite local restaurants. We wanted to shake the Covid craziness out of our systems and see what the current landscape looked like. Being designers, we were curious to see just what was taking place in this new Post-Covid (PC) world.
Knowing the new protocol is to make reservations due to the smaller occupancy numbers, we went online and did so. Later that day, as we pulled up to the restaurant, we noticed the parking lot was clearly divided into areas for those dining in, and those ordering and picking up takeout. They had installed a Pick-Up door and window for this part of their business. Located off to the side of the window an exterior menu showcased all their dishes available for takeout, so you can become prepared while you waited. Like European restaurants that display their menus near the entryway, this was very helpful.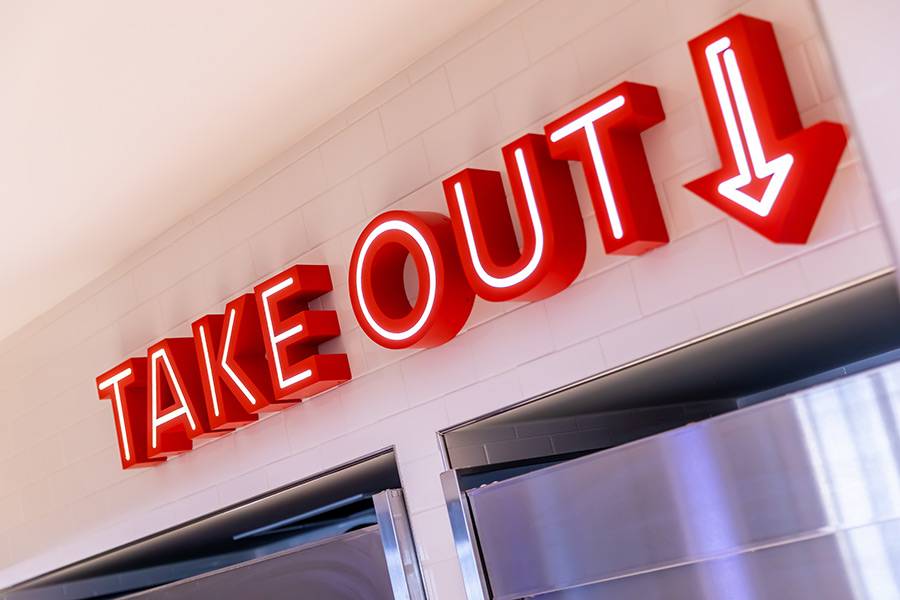 The entry door automatically opened upon our approach. We could tell the host who greeted us had a smile under the mask he was wearing. A thoughtfully designed cleansing station was located immediately to the right as we entered, to allow for anti-bacterial wipes, hand sanitizer, a paper towel dispenser, and a waste receptacle, all neatly designed to allow guests to self-cleanse as they entered the restaurant. There were several of these located throughout the space.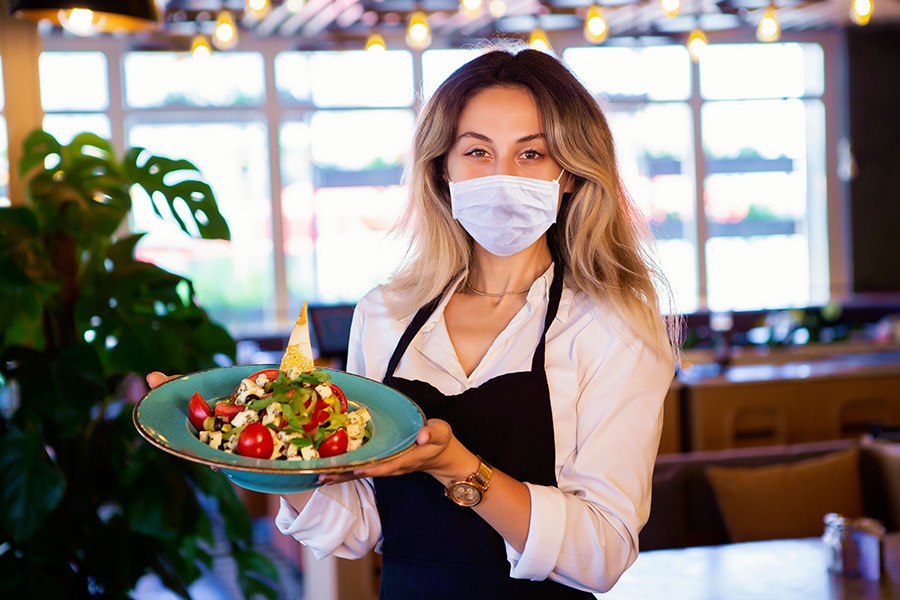 As we were led to our table, we immediately noticed the sparseness of the tables and seating. Gone were the two large signature communal tables. In their place were several four tops. In fact, all the tables were four tops and two tops, all moveable to allow for reconfiguration in a moment's notice. I appreciated the heavy-duty lockable casters on the legs, allowing the employees to quickly relocate them as needed. The tabletops were covered with light brown butcher paper. Certainly, having smooth, clean, antibacterial surfaces in the new PC world was a new normal expectation, or even a demand, and they were doubling down with the easily disposed of paper solution.
The restaurant had never been a bastion of fluffery and textured finery; it was warm and welcoming. Gone were the sofas, fabric covered pillows and three-dimensional objects d'art that festoon many a dining establishment of the past. Easily cleaned, and obviously so, are the new normal in this PC world. One concern was that with all the new slick, clean, hard surfaces the noise levels may be impacted. There just weren't as many soft elements to help absorb and deaden the sounds when carpeting is not on the floor. Because the dining area and bars were less crowded, due to the need for more physical space between customers, the noise level was significantly less. Also, we observed that fabric covered ceiling clouds were installed several feet above the diners heads to help with noise reduction. As we were taking our seats at our favorite booth, I noticed the artfully hung curtains between the booths, providing separation. They were hung from the ceiling and fixed at the bottom, to be relatively rigid. They were a smooth fabric, clearly antibacterial, and I was amused to remember hearing about one restaurant somewhere that was hanging clear plastic shower curtains as space dividers. Good Lord, what an ambiance that must be – "Would you like one bar of Dove with that, or two?"
The wait staff quickly brought us our silverware, condiment caddy, and recyclable paper menu. These items had not been sitting on the table prior to our being seated. In the caddy were individual packets of condiments and a bottle of hand sanitizer. A free-standing A-frame mobile chalkboard with the daily specials handwritten on it was brought over to the table and situated for us both to see. One can envision that the use of contactless QR devices or phone apps will undoubtedly also be new options; anything to keep everything within your personal sphere of touch.
I also observed that the bar setup had changed. A number of the stools had been removed, allowing for more space between the patrons. A few properly scaled dividers had been positioned to help break up the spaces a bit. Nothing extreme and cubicle-like, but a light whimsical touch to help provide separation. This easily-moved divider idea was also evident on the main dining room floor, utilized to help separate tables and spaces. The bartenders, wearing masks and gloves, clearly took time and consideration in all their movements, and every mixing device was thoroughly cleaned after each use.
We also noticed the outside patio dining area had been reworked to address our culture's willingness and desire to adapt. The attitude reflected the interior dining area – fewer tables, more distance, sanitization, wait staff with masks, the same precautions were in effect.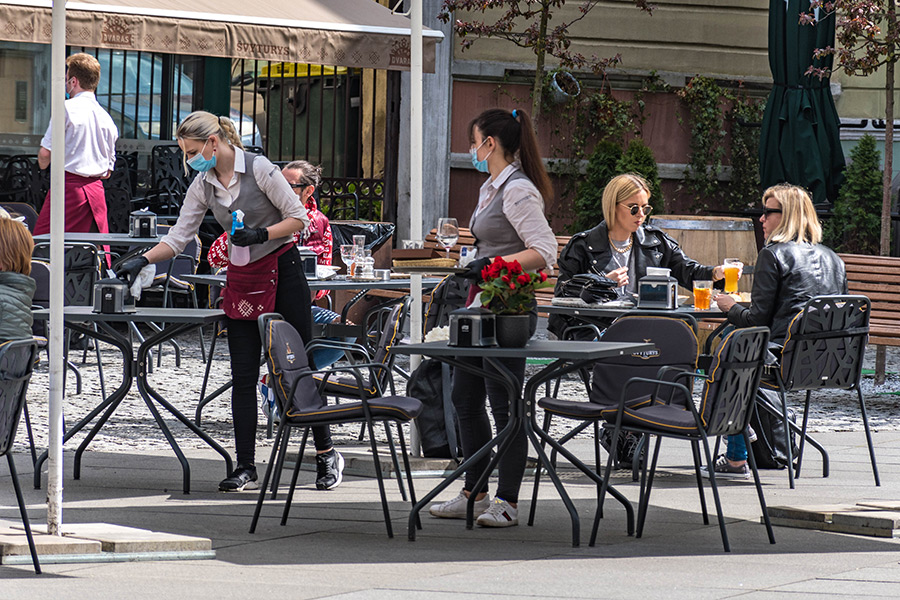 The meal arrived and it was sublime, as usual. The smells and sights and sounds of the kitchen were much welcome after the extended absence. Despite the worldwide shutdown, and the time away from the kitchen, the chefs were still totally on their game. And now they were making some of these wonderful items of deliciousness available in the new pick up Deli area that was now part of their environment. A trip to check it out was called for.
When we had entered the restaurant, we noticed the new Pick-Up and Carry Out Areas situated away from the dining room. An automatic door led you from outside into this area. The Pick-Up counter was clearly and logically marked and overseen by one of the employees, as was this whole new addition to the interior: a Grab-N-Go component where you could pick up meal kits, meats, cheeses, homemade sauces, breads, and pastries, etc., as well as Take and Bake meals for you to finish preparing at home. They even had Take-Home Cocktail kits. This resourceful restaurant had never had these options before, and I could tell I was going to love it. The option to swing by on my way home from work and pick up dinner was very appealing. And while the supermarkets are great, this was a new option that was very attractive.
One of the added bonuses of this new element was the impeccable job they did with the branding of the packaging. Massimo Vignelli would have been proud! Staying true to their core menu items, they had incorporated just the right amount of individual options to create many possibilities, and the entire ensemble worked together in a fantastic manner. Clearly a lot of thought had been put into this effort; no detail was left to chance. I had certainly read about the possibility of Post-Covid restaurants contemplating this additional revenue steam, but boy did these guys knock it out of the park! Dean and Deluca in their heyday would have been envious.
The final step was the wait staff bringing the hand-held payment device to our table for us to pay the bill. A few restaurants and retailers have been doing this for a while, but clearly this will be a universal change across the board. No more waiting for the return of the credit card to your table, as it will stay completely in your hand, adding to your sense of security. The routine is quick and simple and will only become more so as it becomes the new normal in this PC world.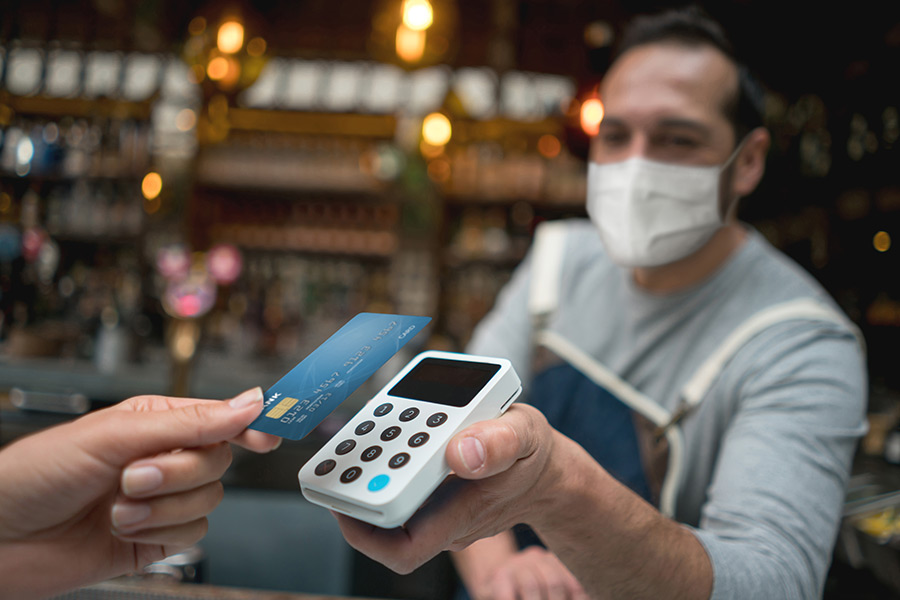 Next up: the rest room. Nothing there surprised me, as I had come to experience thoughtfulness and focused purpose every step of the way so far. Automatic door for entry and exit, check. Automatic fixtures to eliminate contact, check. Touchless faucets and soap dispensers, check. The hot air hand dryers had been removed and replaced with recyclable paper towels. Which makes all the sense in the world – air movement is a huge issue for transmittable viruses.
The experience was great. It was a welcome change from eating at home in the kitchen or dining room. We know as time passes people will continue adapting and changing their habits, I look forward to seeing how restaurants will continue to adapt to this new way of life.