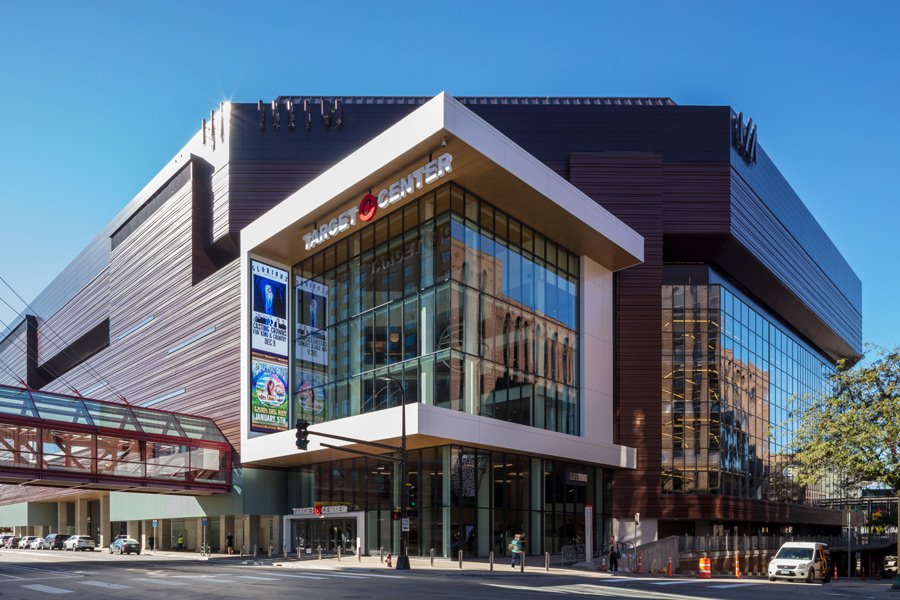 Target Center Renovation Wins 2019 AIA Minneapolis Merit Award
The Target Center Renovation was selected as a recipient of a 2019 AIA Minneapolis Merit Award. The award recognizes a project that exemplifies a story of excellence beyond design, a design that focuses on the public's interest, and a design solution that embodies all of the influences that shape the building.
The Target Center Renovation is a transformational update to a downtown Minneapolis arena, home to the Minnesota Timberwolves and Lynx as well as a premier event venue for concerts and other entertainment events. Since the original arena was constructed in 1990 the urban setting and context have changed dramatically, customer expectations have evolved, and technology systems have advanced. Balancing the priorities of the three clients – the City of Minneapolis (owner), AEG (building operator), and the Minnesota Timberwolves and Lynx (users) – was a significant project challenge.
The design approach recognizes that Target Center is no longer at the edge of the city, but rather is closer to the heart of downtown. New windows on all building sides open up to the once hermetically sealed building creating dynamic relationships – simultaneously animating the experience for people inside the building while enlivening this active entertainment district from the outside. User orientation was improved and an expanded variety of programmatic elements were added inside. The main entrance was moved to the corner of Sixth Street and First Avenue creating a warm and welcoming entry. The life of the building was extended another 20+ years contributing to the sustainable community vision for the project.
In addition to receiving the Merit award in June 2019, the Target Center Renovation received a 2025 Plan Leadership Award from the Minneapolis Downtown Council in 2018, and was selected as one of the Finance & Commerce Top Projects of 2017.
To see more, click here to learn more about the project.