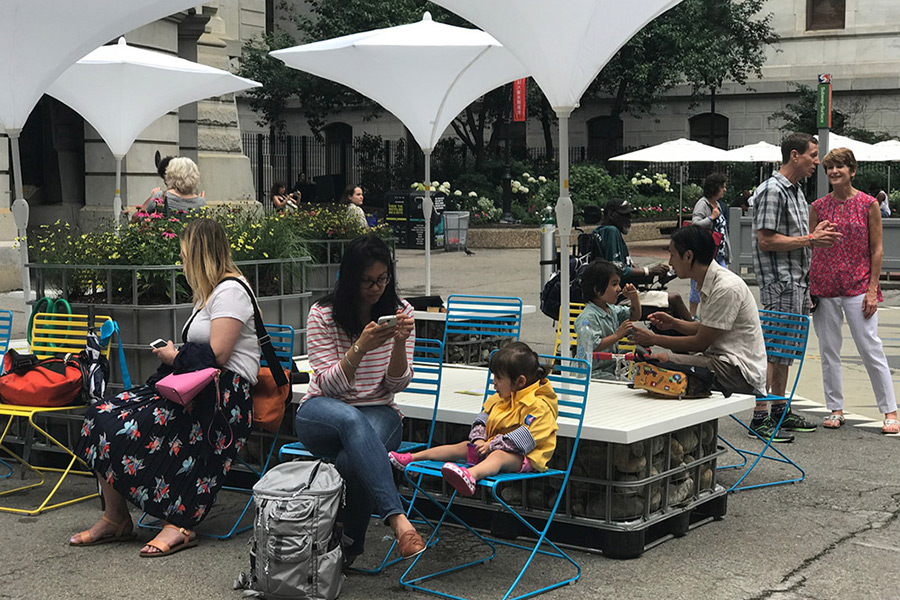 Supporting Social Spaces in Parks with Flexible Architecture
by Amanda Arnold, AIA, NCARB, LEED GA
Parks and outdoor public spaces are a valuable resource for all, and usage is surging. By providing elements that support and enhance outdoor recreation and socialization, we can respond to current needs, while allowing for flexibility in the future.
An unfortunate result of the Covid-19 pandemic has been a loss of face-to-face social connections. Many people have spent much of their time isolated indoors, with their only social engagement occurring through computers and phones. As we move toward a new normal, sociable spaces, such as parks, prove to be important for overall well-being and continue to satisfy a need for gathering and recreation. This provides a timely opportunity to look at how public spaces function and whether additional amenities can be incorporated to support the user experience.
As architects, designers, and place-makers, we are in a unique position to be able to envision and develop elements and amenities that can enhance people's experience when they gather outdoors to participate in recreation, especially during times of peak use of parks and outdoor spaces. Providing a mix of flexible seating, shade elements, picnic tables, and some permanent seating elements, not only draws people together but also supports a positive user experience. There have been some recent good examples of transforming public spaces for the good of public use as described in Katherine Peinhardt's article: "Still Waiting for a Nice Place to Sit."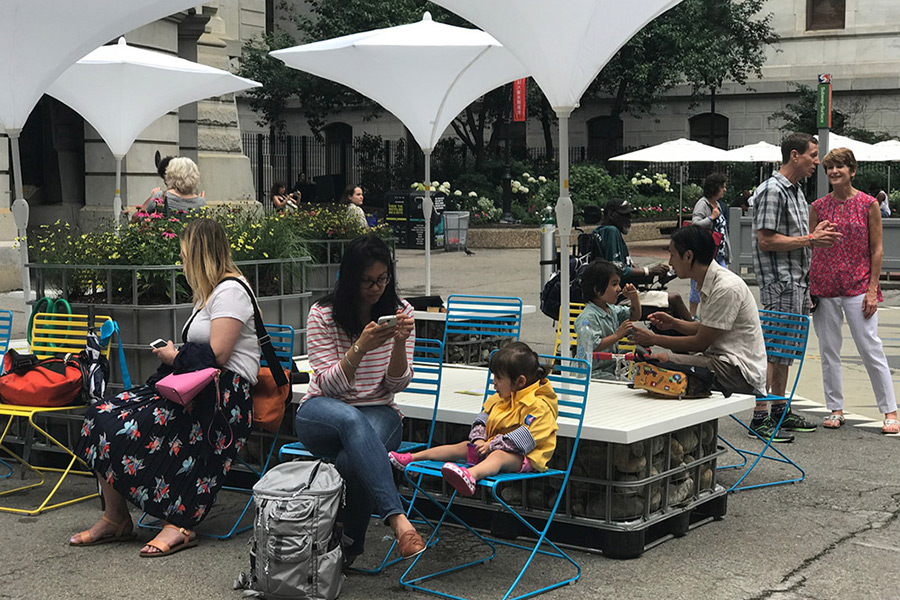 Philadelphia City Hall Courtyard: A modular stage can also be used as tables and benches. Rainwater-collecting umbrellas provide shade and environmental education. Photo Credit: PPS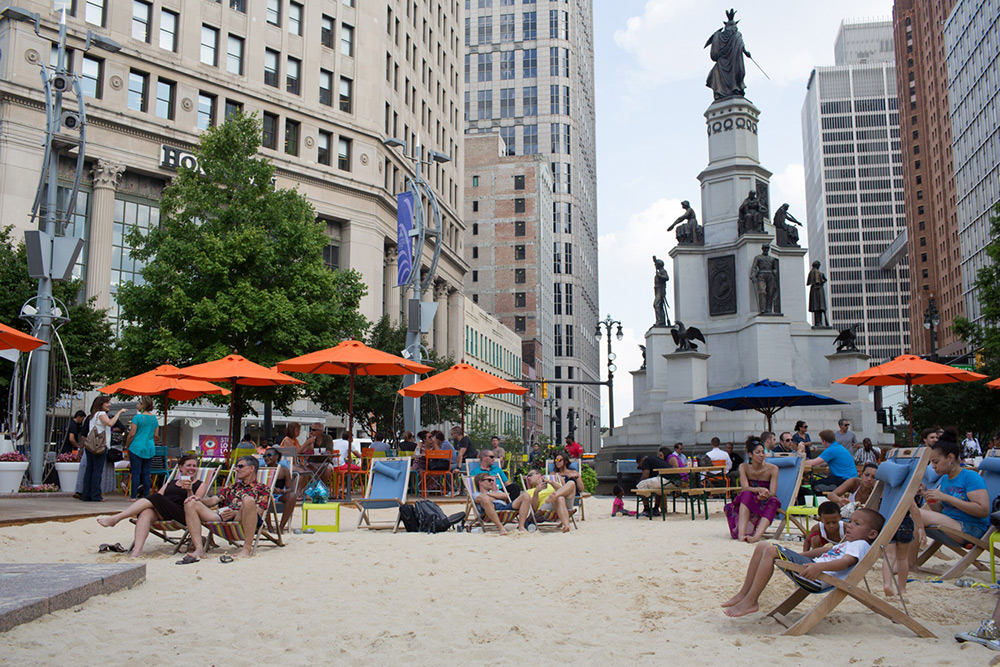 Beach at Campus Martius in Detroit: A previously underutilized space became a unique beach-like amenity for meeting and relaxing within the urban core. Flexible/movable seating, tables and shade umbrellas encourage people to gather and provide comfort. Photo Credit: PPS
Considering the impact of flexible elements in parks and public spaces, I reflected on a recent experience I had in a local park. During the summer of 2020, a county park near my home opened a new beach. The park's original beach had been flooded for several years and was not usable. It was a joy to watch the new beach being built over the winter and into spring, knowing that our community would be able to enjoy this free public amenity on hot summer days. Due to the Covid-19 pandemic, when summer arrived, the beach, although complete and ready to use, was closed to visitors. This did not keep people away; many descended upon the beach daily, ignoring the closed signs.
By July, the county opened the beach and summer officially began. Due to the flooding over the previous years, and the damage caused to the landscape over time, many trees were removed, and the renewed beach became much smaller than the old one. Additionally, only a few small grassy areas to set up chairs and blankets remained without much natural shade. The few shaded areas were snatched up quickly on sweltering days. All summer, I longed for a shaded area close to the water.
Amenities that could be added to enhance user comfort include similar elements to the examples above and below including modular elements that are flexible and could be used as tables or seating:
A "perfect" bench: seating, table, and shade all in one.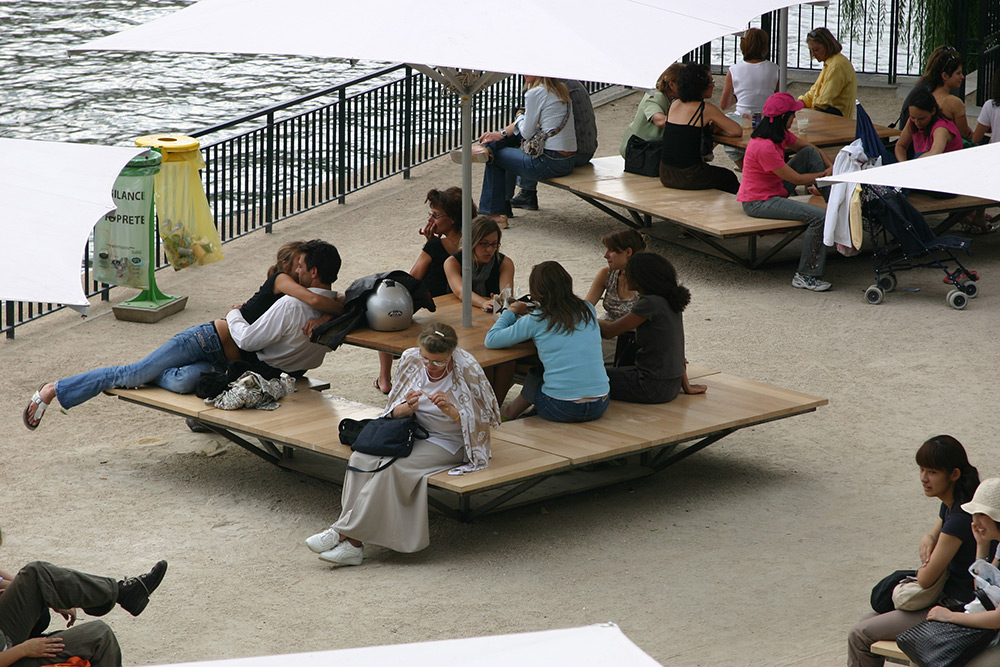 Tensile shade structures that could be set up seasonally.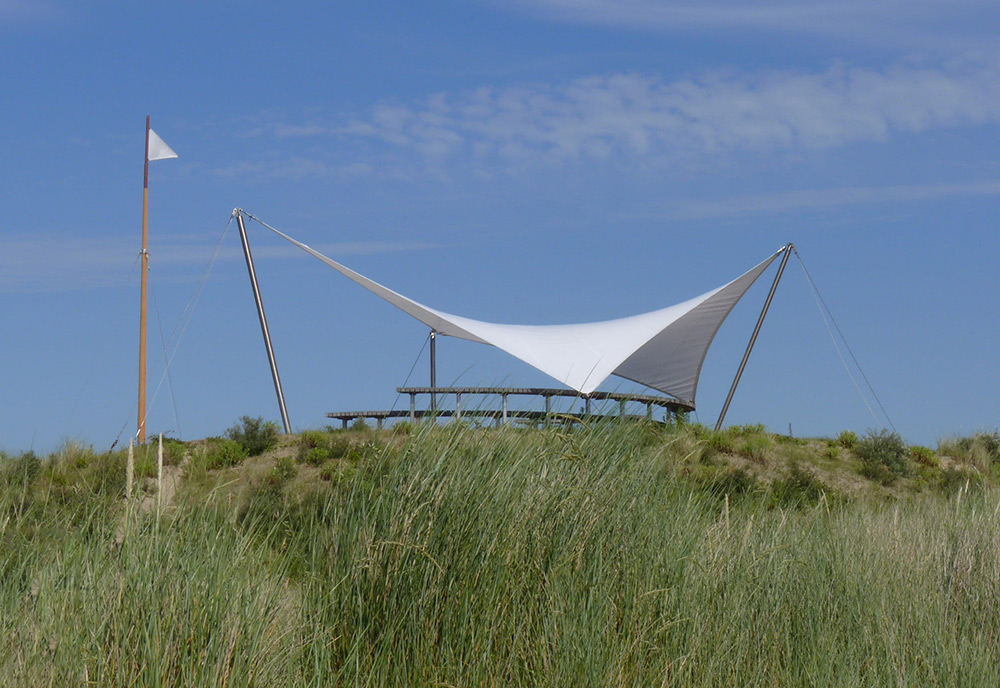 Umbrellas and movable lounge chairs would all be welcome features at the beach.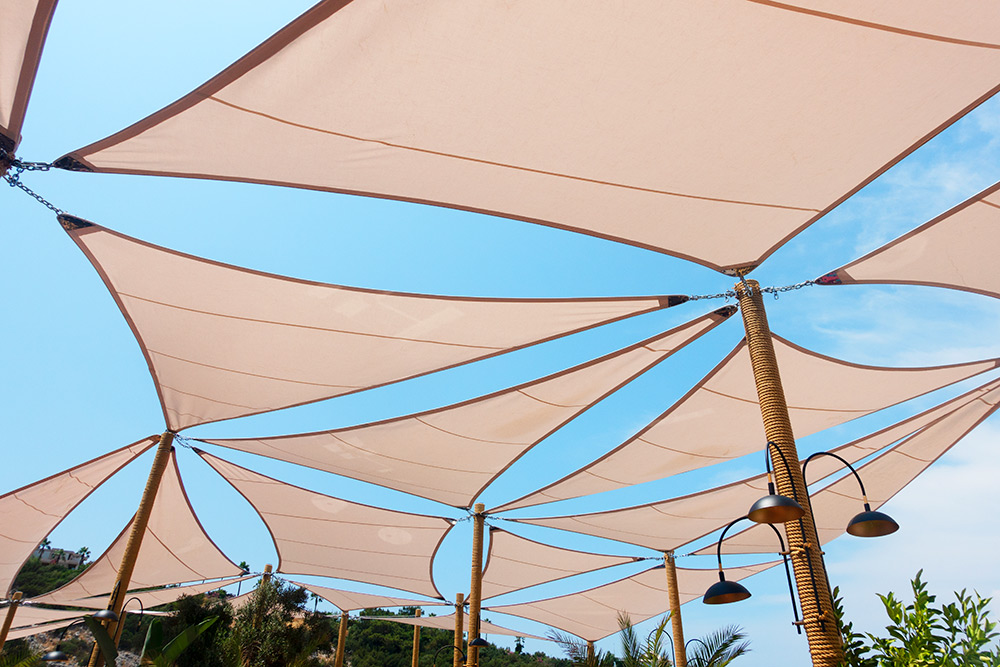 Parks and outdoor spaces provide opportunities for socialization and recreation, and their importance has been amplified during the Covid-19 pandemic. The surging use of these spaces highlights an ongoing need for flexible amenities to support and enhance the user experience. Designing spaces to include simple, movable, and flexible seating, along with shade structures, can help bring people together in the outdoors now and in the future.