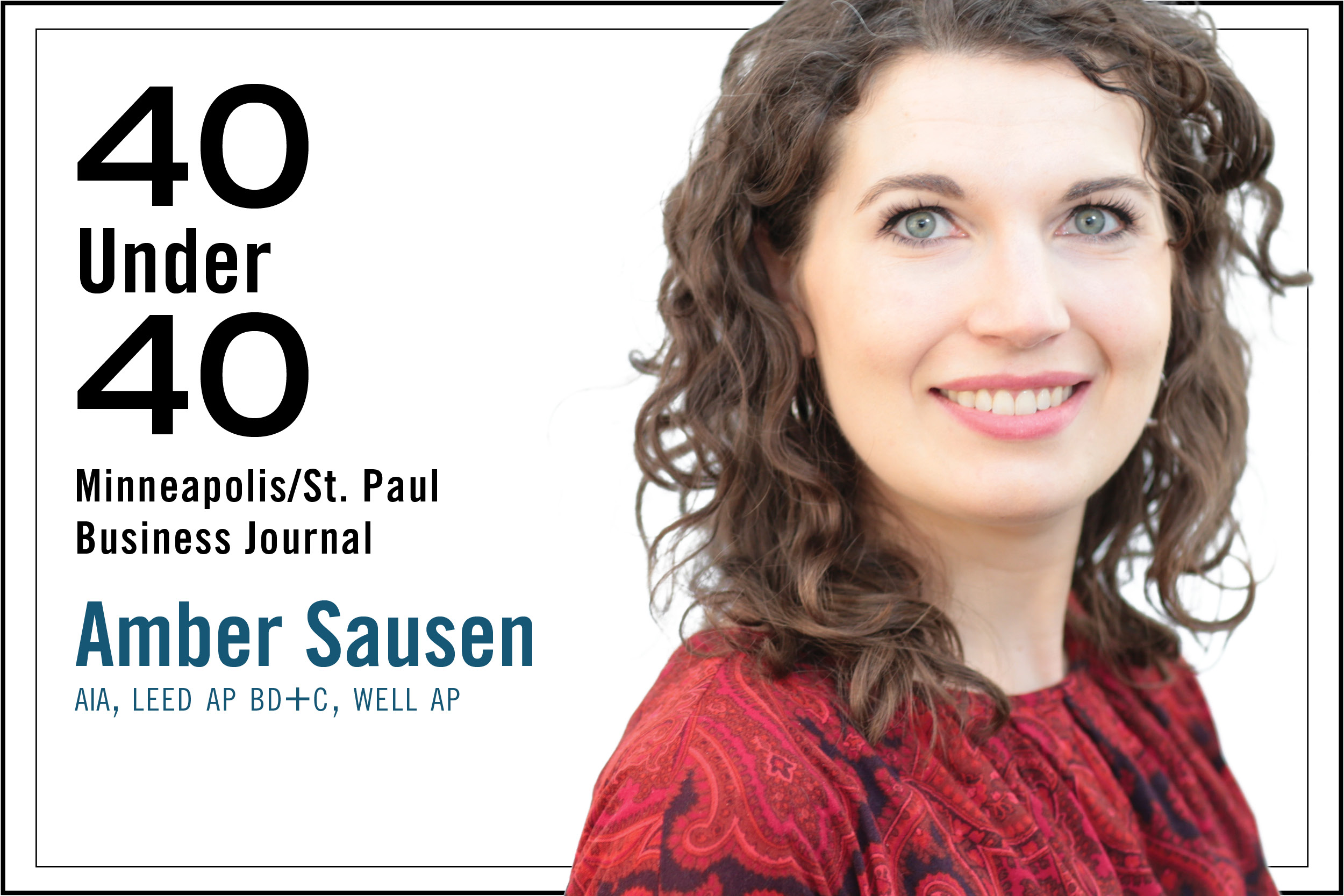 Minneapolis/St. Paul Business Journal's (MSPBJ) 40 Under 40
Congratulations to architect Amber Sausen for being honored as one of this years' Minneapolis/St. Paul Business Journal's (MSPBJ) 40 Under 40. This award recognizes young business and community leaders across the Twin Cities encompassing a variety of industries.
Since joining Alliiance in 2011, Amber has worked on design projects for Twin Cities Fortune 500 companies such as Ecolab, General Mills, Medtronic, Allianz, and Metropolitan Airports Commission. She regularly presents at numerous local and national conferences. Amber has a demonstrated ability to lead complex organizations through change management to help them prepare for the future and build resiliency as they think about a post-pandemic workplace.
In 2020, Amber was promoted to Principal and she currently serves on the Executive Committee guiding the day-by-day operations of the firm. Amber has creatively been the "cultural connector" within the firm during remote working to keep the Alliiance culture strong.
Amber is a remarkable architect and community leader who is making a significant impact within Minnesota, our nation, and the world. She is a committed leader, a thoughtful designer, and a passionate teacher. Amber celebrates and promotes the power of architecture and the arts-to-build community. In 2019, Amber received the AIA-MN Young Architect Award and in 2020, Amber received the prestigious national AIA Young Architect Award.
From 2017 to 2019, Amber served as President for Urban Sketchers (USk), a non-profit organization dedicated to on-location drawing that has over 100,000 sketchers participating globally. Sketching is fundamental to design, and, in this digital age, it is an analog art accessible to everyone. Under her leadership, USk offered over 1,000 hours of educational workshops and over 10,000 hours of community sketching events—from Tokyo to Chicago to Lisbon. For the Twin Cities Chapter, Amber has hosted monthly sketching events since 2016 and continues to be actively involved in the organization.
You can check out the MSPBJ article here.