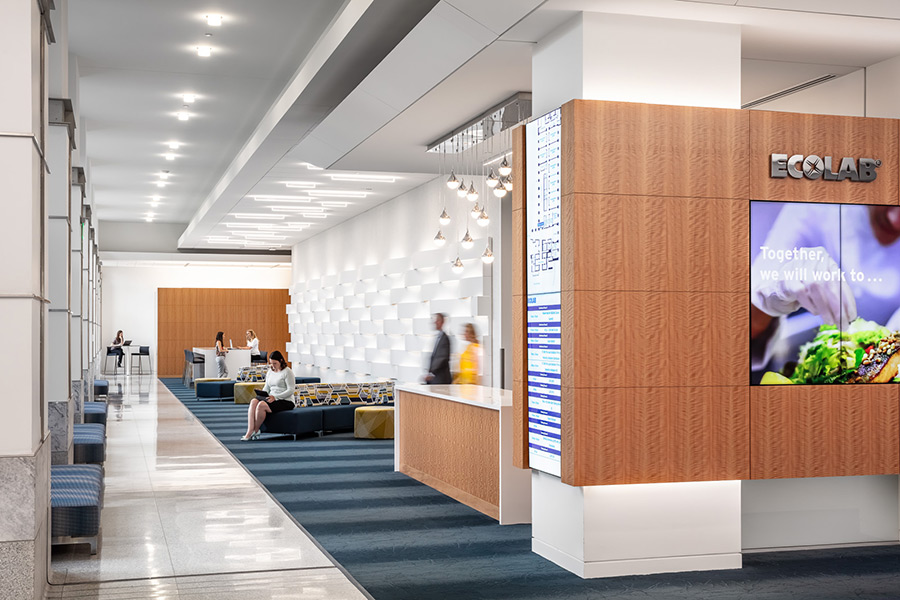 Ecolab Global Headquarters Wins 2018 Finance & Commerce Top Projects Award
Finance & Commerce announced Ecolab Global Headquarters was selected as one of the Top Projects of 2018. To be eligible, the projects had to be fully completed by the end of 2018. For each submittal, a panel of judges looked at the degree of difficulty, creativity in design, innovative construction techniques, cooperation among contractors and management, and sustainability efforts.
In 2015, Ecolab purchased and selected Alliiance, McGough Construction, and NTH to help them renovate their 17-story post-modern Kohn Peterson Fox designed building. An austere building with a clear parti, it offered the opportunity for Ecolab to step into the future. Three primary challenges drove the design: create a workplace that supports innovation, collaboration, and learning; re-energize Ecolab's brand as a global but home-grown Minnesota company; and seamlessly harmonize with the iconic architecture of the building. The existing building provided many opportunities for classic materials such as limestone, terrazzo, Calcutta marble, and sapele mahogany wood. The project team felt it was important to honor the original post-modern architecture while integrating features found in today's modern office environments. Elements such as lower workstation panel heights, upgraded LED lighting, motion sensors, and increased acoustic treatments were added to aid in a comfortable and engaging work environment.
The project includes a company store, enhancements to the cafeteria, state-of-the-art Learning Center and the full renovation of sixteen office floors – including the executive suites. Amenities on the second level integrate seamlessly with the seventeen-foot-tall, light-filled space and leverage the narrow floor plate with views of the city and access to the green roof.
Office floors feature light and bright amenity spaces which couple as a convenient break room and work lounges with incredible views of the St. Paul Cathedral. Vivid color-focused wayfinding is employed to assist in designating open collaboration space, huddle rooms, and conference rooms along the long narrow office floors. Considering the building was built in 1989, a year before American Disabilities Act (ADA) guidelines were adopted, the project team was handed the task of upgrading the building to 2018 accessibility standards. New ADA accessible restrooms, along with thoughtfully located workstations and amenities, ensured that employees of all abilities had full access to the building.
Together with Ecolab senior leadership, the design team developed a concept reflecting Ecolab's water initiatives. The design features undulating carpet patterns and gentle nautical references of blue and yellow accents. Within the Learning Center, a custom "wave wall" incorporates lighting, acoustics, and brand interest. The cafeteria features new sail-like pivoting glass and wood panels which serve as a sophisticated backdrop for company town hall meetings and community events.
To learn more about this project, click here.