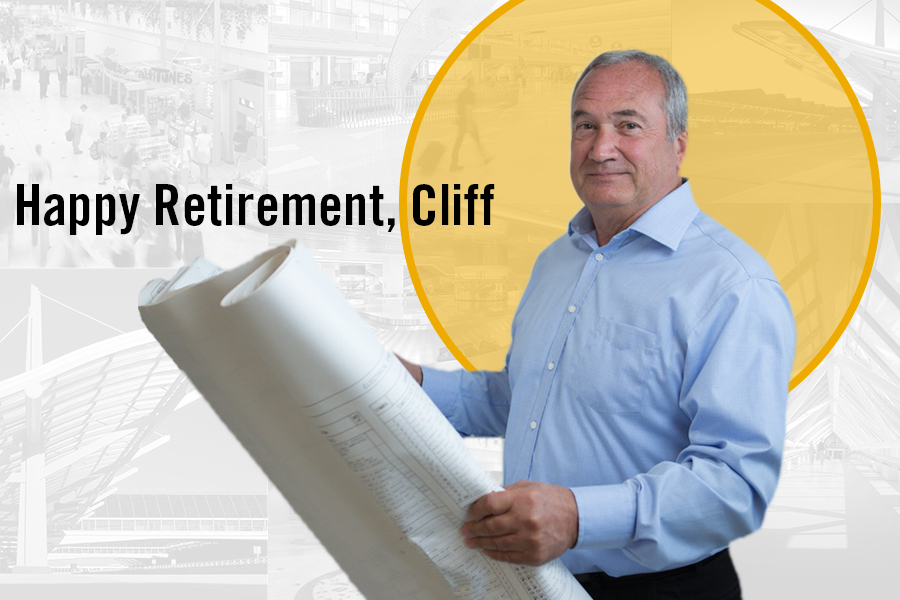 After more than thirty-four years with Alliiance, Cliff Dunham will be retiring on June 17, 2022. With a lifelong passion for architecture and aviation, Cliff pursued both interests–earning his pilot's license at an early age and becoming an architect in 1980. He began his career with Alliiance in September 1987, working out of our Minneapolis-St. Paul International Airport (MSP) office in the heart of Terminal 1. Though career and family made flight time hard to come by, working on aviation projects at Alliiance kept Cliff's passion for aviation a central part of his life. Collaborating with staff at Alliiance and the Metropolitan Airports Commission (MAC) to bring great architecture and design to the traveling public has been an inspiration to him.
At MSP, Cliff has been instrumental in managing and guiding the planning, design, and construction of numerous projects. His first project with the MAC was an auto rental building where the Blue and Red parking ramps are today. The building was utilized for seven years before ultimately being torn down for parking expansion, but many more achievements followed. These included the Northstar Crossing project, which opened up the central mall, created new spaces for concessions, and became a model for the entire aviation industry. Cliff also worked on multiple terminal and concourse renovations and expansions, such as the reinvention of Terminal 1 under the Operational Improvements Program. In addition to being one of the MAC's most trusted partners, Cliff worked with several of the MAC's tenants, including Northwest Airlines, Delta, United, American Airlines, and OTG. He also led as Principal-in-Charge for Alliiance's major projects at the San Diego International Airport. Cliff was promoted to Principal at Alliiance in 1998 and took over as the primary Principal overseeing our MSP office in 2007. In recent years, he has co-managed Alliiance's MSP work with Jeff Loeschen and Lauren Perich.
Cliff will be missed–though his legacy of providing excellent service to clients, strong leadership on impactful projects in the aviation industry, and inspiring mentorship to scores of design professionals will continue to have great impact for years to come.
Congratulations on your retirement, Cliff!