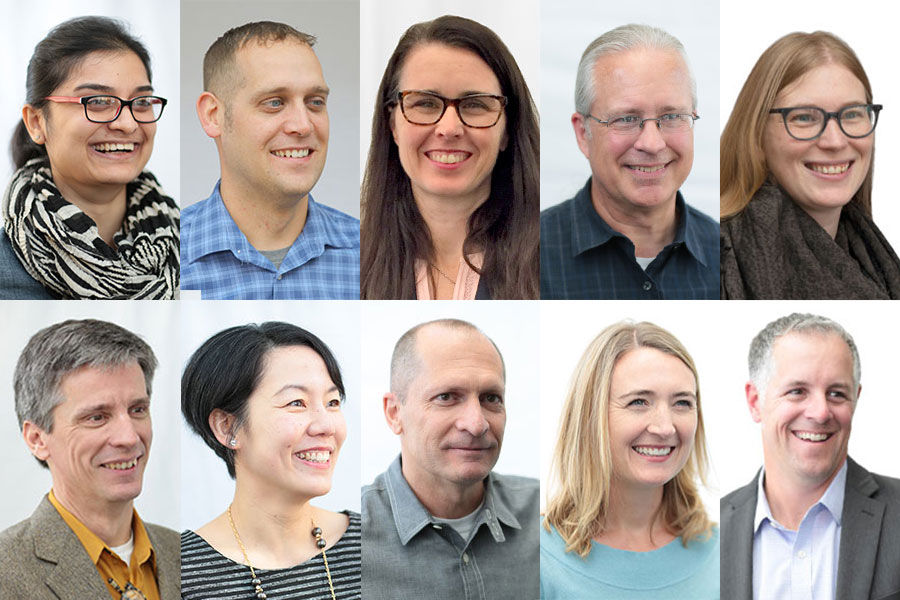 Celebrating Our Science and Technology Leaders
Alliiance has over 50 years of experience planning and designing more than 2.5 million square feet of Science + Technology (S+T) space. Our comprehensive expertise spans research and development in both academic and business environments, enhancing our ability to promote a crossover of innovation and new ideas across this spectrum. The breadth of our work to date includes numerous industries, space types, and capabilities. Here we introduce our experts and highlight their expertise.
GAURI KELKAR Assoc. AIA, LEED AP, Senior Associate
Meet Gauri Kelkar. Along with extensive technical experience and a keen eye for detail, Gauri brings a passion for space planning and strong documentation skills to the S+T team. She's a highly motivated, effective communicator, with a positive attitude and willingness to learn and share knowledge that enhances each project she works on. Her recent S+T work includes Cargill's Animal Nutrition Center and Cargill's R+D Center lab and collaboration space.
JON DYKSTRA AIA, Senior Associate
Jon Dykstra's technical building knowledge and detailed project follow-through make him an asset to each S+T project he works on. As part of the firm's Revit Responders group and BiiM Committee, he brings critical expertise to our projects, and he matches that know-how with an equally excellent attitude and sense of humor. His recent S+T work includes the General Mills James Ford Bell Wing 5 Analytical Lab, University Enterprise Laboratories, and West Pharmaceutical Services.
CHRISTINE PETERSON AIA, Senior Associate
Christine Peterson has comprehensive experience organizing and delivering projects ranging in scale from large corporate campuses to small renovations. Regardless of the size, Christine brings her dedication to clear communication and technical excellence to each S+T project she works on. Recent projects of hers include the Veterinary Isolation Facility at the University of Minnesota and the cleanroom at SkyWater Technology.
JON STONE AIA, LEED AP O+M, ICC & MN Accessibility Spc., Senior Associate
With 30 years of experience, the S+T studio is fortunate to have seasoned project architect Jon Stone leading project teams. Jon has worked on over 70 food science projects in the past 20 years, developing expertise in building code, construction documents, and construction administration. Highly experienced in working with existing campuses, Jon's recent S+T work includes the Medtronic Rice Creek Campus cleanroom and General Mills' James Ford Bell Campus Wing 5 Addition, as well as the Cargill Minneapolis R+D Center and the University of Minnesota's Minnesota Poultry Testing Lab.
THEA ROZENBERGS AIA, LEED AP BD+C
Thea Rozenbergs joined the Alliiance team just this year and is already making an impact in the S+T Studio. She is a senior architect and sustainable design professional with over 15 years of experience. Thea is a creative problem solver with a passion for envisioning a collaborative, thriving future. Her practice focuses on a holistic approach to integrating sustainability and resilience, from goal setting through design development and integration of specifications. Thea is currently working on a cleanroom for West Pharmaceutical.
ANNA PRAVINATA AIA, NOMA, LEED AP, Principal

Anna Pravinata has led the design of many Alliiance S+T projects with a focus on higher education clients. Her passion for translating clients' needs into state-of-the-art spaces has resulted in leading-edge research facilities such as the University of Minnesota's Bee and Pollinator Research Laboratory and John T. Tate Hall Renovation and Addition, as well as Cargill's Animal Nutrition Lab and Minneapolis Research and Development Center. Anna's positive approach, design talent, and listening skills are qualities that translate into excellent design and high-performing teams.
PETER SCHROEDER AIA, Principal

Peter Schroeder as worked in an architect's office since he was 19 years old and now plays a vital role in Alliiance's S+T Studio. He is known by clients and his colleagues for his technical expertise, organizational skills, and creativity in solving complex details. He has a keen ability to steward design and client needs into construction, as well as an encyclopedic knowledge of building assemblies and systems. Peter's recent work includes projects with Cargill and the University of Minnesota, such as the research labs at the Physics and Nanotechnology Building and teaching and research labs at John T. Tate Hall.
MARCELO PINTO AIA, LEED AP BD+C, Principal

An award-winning designer, Marcelo Pinto is a champion of design excellence with a passion for materiality and detailing. He has led design teams on a variety of inspiring workplace and science and technology projects. Marcelo designs spaces that are inspiring, thoughtful, and purposeful—spaces that respond and honor the experience and vision of the client, the community, and the physical context. His recent S+T work includes projects for Ecolab, University Enterprise Laboratories, Medtronic, Boston Scientific, and West Pharmaceutical Services.
MAMIE HARVEY AIA, LEED AP BD+C, Principal

As Alliiance's S+T Studio co-leader, Mamie Harvey provides design leadership on life science, physical science, food, and high-tech building projects for both public and corporate clients. She is a skillful practitioner of thoughtful planning and inspired design, provides data-driven design expertise, and focuses on providing long-term flexibility and efficient process flow. Mamie excels in leading complex teams for clients such as Cargill, General Mills, the University of Minnesota, and Minnesota State.
ROSS NAYLOR AIA, LEED AP BD+C, Principal

Ross Naylor co-leads the S+T Studio at Alliiance. He excels at uniting the design vision with strong planning, product research, and thoughtful technical execution. Ross has developed deep relationships within the community and strives to understand business drivers and build consensus within the team while maintaining a fun and creative environment. With a special focus on cleanrooms, Ross has led projects for Bayer, Boston Scientific, Ecolab, Medtronic, SkyWater Technology, and West Pharmaceutical Services.