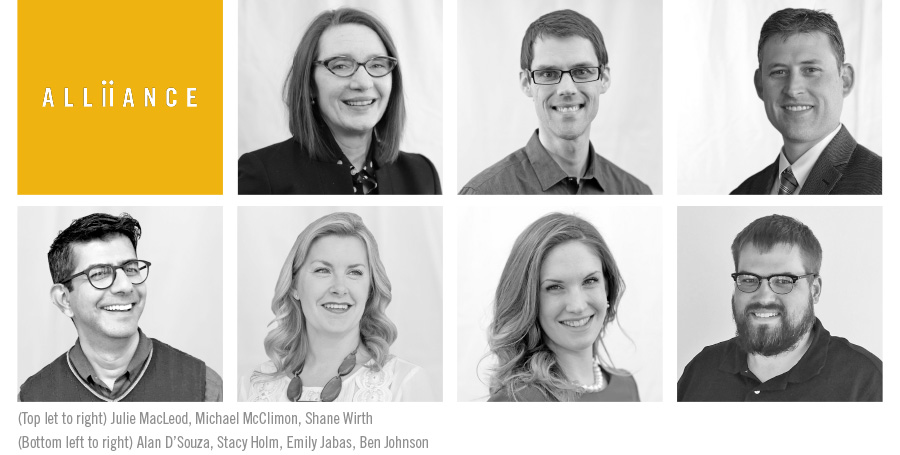 Alliiance Promotions 2018
SENIOR ASSOCIATES
Julie MacLeod  AIA, NCIDQ, LEED AP
Senior Associate
Julie brings strong design leadership to a wide variety of projects across the spectrum of Alliiance's portfolio from corporate to aviation. She is a compelling communicator of design ideas, both graphically and verbally, and has gained the confidence of our clients. Julie has served key design roles on Memphis International Airport Concourse Modernization, Clinton National Airport Concourse Renovation, Minneapolis-St. Paul International Airport Concourse G Visioning, and Winthrop & Weinstine Law Firm projects. She has also stepped into the role of Alliiance's NCARB Architectural Experience Program (AXP) Coordinator. Julie worked for Alliiance from 1994–1995, and returned in 2014.
Michael McClimon  AIA, LEED AP
Senior Associate
Michael is a key player in the design of Alliiance's aviation projects, especially at the Minneapolis-St. Paul International Airport where he worked extensively on the Operational Improvements Program and the A-G Concourse / Hotel Connector. Michael assisted in guiding the vision for the Operational Improvements Program while closely collaborating with the individual teams through design execution. He also provided design leadership for the Ames Regional Airport project, BMO Harris renovations, and airport concession projects.
Shane Wirth  LEED AP BD+C
Senior Associate
When Shane joined Alliiance in 2012, he brought more than a decade of experience in specialized aviation planning expertise. Shane is a great resource and team member on a large number of national and international aviation projects as a Senior Terminal Planner. Although his primary focus is providing specialized and highly technical planning analysis and guidance, he has also supported teams providing a variety of traditional architectural services. Shane stays on top of aviation trends, standards, and regulations, and serves as a mentor to our staff and the broader aviation industry. He has taught a yearly airport planning short course at University of California Berkeley for eight years, and currently publishes a weekly e-newsletter for Alliiance's staff regarding the latest in aviation planning and design. While at Alliiance Shane has worked at more than 20 airports including, Dayton, OH; Grand Rapids, MI; Little Rock, AR; Memphis, TN; Cincinnati, OH; Papua New Guinea; Anchorage, AK; and Minneapolis-St. Paul.
ASSOCIATES
Alan D'Souza  AIA, LEED AP BD+C, O+M
Associate
Alliiance has benefited from Alan's dedication to thoughtful collaboration and professional excellence. He has focused both his professional career and his extensive community involvement on improving and delivering sustainable design solutions. Alan is continually updating the sustainability aspects of Alliiance's specifications, and is an active participant in Alliiance's Green Team. He has contributed to several significant Alliiance projects in various capacities including Target Center, Ecolab, and the Minneapolis-St. Paul International Airport.
Stacy Holm  NCIDQ, LEED AP
Associate
A strong designer and communicator, Stacy has successfully led and collaborated on the design of the Ecolab Global Headquarters and Urban Refuge projects. She brings an easy-going, collaborative approach to design that instills confidence and trust in her team and the clients she works with. On the Ecolab Global Headquarters, Stacy played a key role in establishing the project vision with high-level stakeholders for both the Executive levels and a Learning Center. She was critical in aligning design expectations which established the foundation for success, ultimately implementing a design that achieved Ecolab's vision.
Emily Jabas  
Associate
Over the past five years, Emily has held a variety of responsibilities and is instrumental in project billings, providing Human Resources administration, new employee orientation, project set-up, and state registration management. Her commitment and attitude, while providing fundamental support to our practice, has been exceptional and enables the firm to deliver on our goals of quality design and outstanding service to our clients.
Ben Johnson  
Associate
Ben combines a strong design sense with an ability to quickly and efficiently develop, illustrate, and evaluate project alternatives. His ability to understand project and client objectives, and help direct and inspire a team, has been a great asset to our aviation practice. Ben's background prior to Alliiance includes cutting-edge digitally immersive interior environments as well as international aviation projects. At Alliiance, Ben has been a valued contributor to the development of projects including Williston, Vail, Papua New Guinea, Reunion Island, Minneapolis-St. Paul, and Spokane.