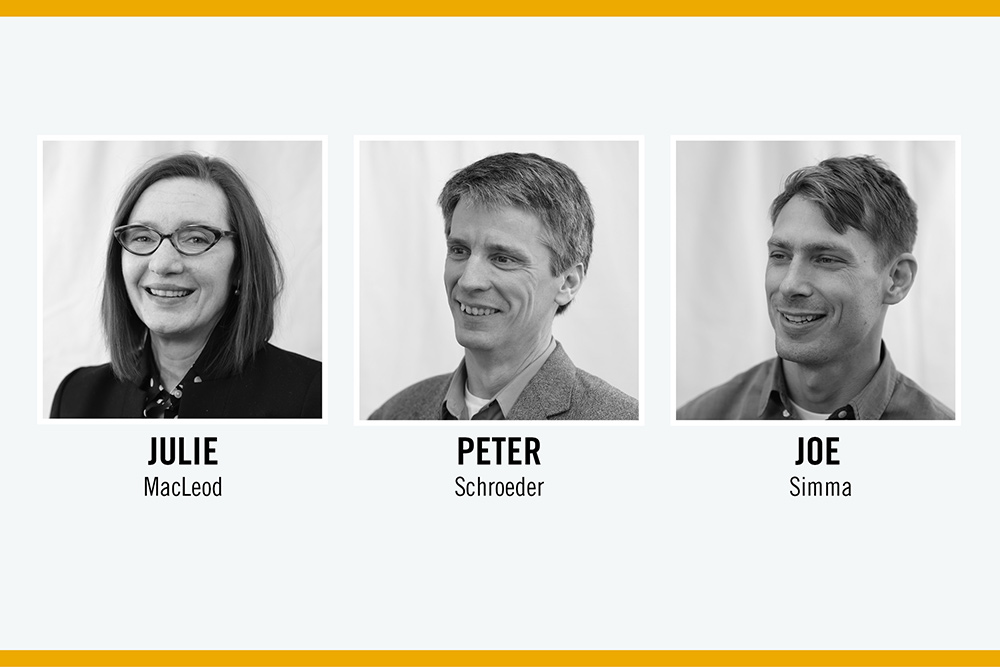 Alliiance Promotes Three New Principals
Julie MacLeod AIA, CID, LEED AP
Since rejoining Alliiance in 2014, Julie has led the design of many projects across the full spectrum of our practice. Her aviation portfolio includes the Memphis Concourse Modernization, Lincoln Airport expansion, Grand Rapids International Airport, planning for the Quad City International Airport, and on-going projects at Clinton National Airport. Julie co-leads the Civic and Community studio, leading project pursuits and participating in project interviews. Her work in this sector includes an ongoing series of projects with the City of Bloomington. She is active in client and project management and serves as the AXP coordinator for the firm.
Peter Schroeder AIA
A Senior Project Architect, Peter Schroeder has contributed to the success of numerous significant and complex projects in the Public, Workplace, and S+T studios. His passionate and thorough understanding of technical building systems, design, and ability to manage large project delivery teams has made him a valuable leader. He is a mentor to his team members with an emphasis of realizing the design intent during the project delivery and construction of our projects. Peter also leads our SWAT Zoning and Code reviews and, with his encyclopedic knowledge of building assemblies and systems, contributes to exterior envelope reviews on many projects. If he doesn't know the answer, he will spend the extra time to figure it out with you. Peter rejoined Alliiance in 2011.
Joe Simma AIA, LEED AP BD+C
Joe has become an authority in the design of high performing building envelopes and passionately shares his knowledge internally with staff and externally at building enclosure and façade conferences. Joe has focused his career on complex projects, where he relishes the challenge of integrating disciplines, systems, and concepts to bring clarity to complexity. Regardless of project size, he recognizes that equal attention to design, performance and budget is how truly elegant solutions are achieved. Joe is a self-described BIM and design technology nerd. His notable projects include the St. Jude Medical Technology Center, UMN Mechanical Engineering Renovation, UMN Physics and Nanotechnology Building, and Spokane International Airport Terminal Renovation and Expansion.