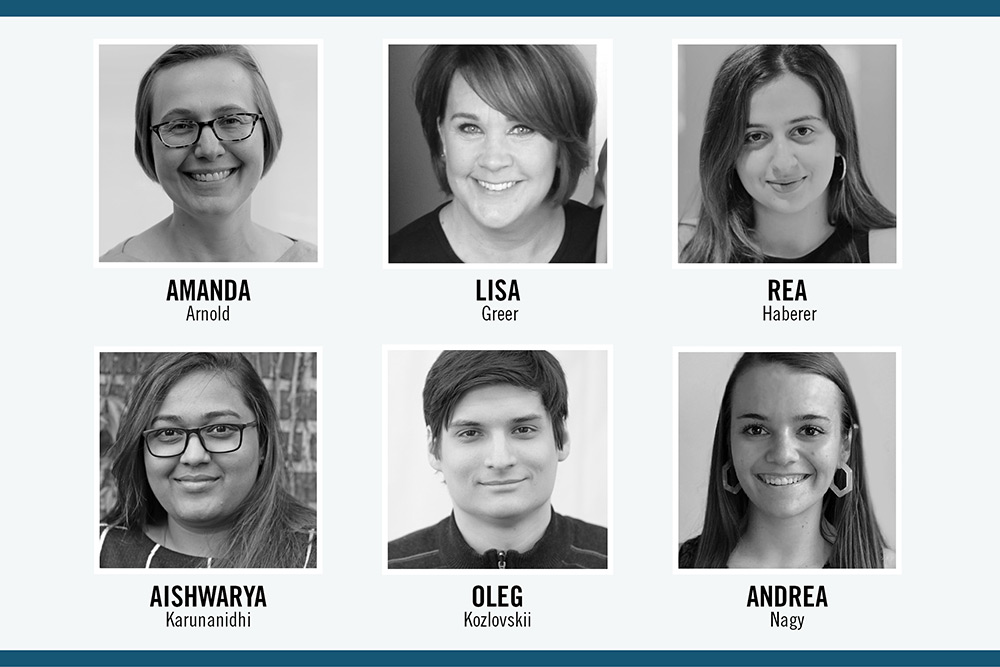 Alliiance Promotes Six New Associates
Amanda Arnold AIA, LEED GA
Amanda joined Alliiance in 2018. With over 20 years of experience, she is a very knowledgeable project architect with a strong technical foundation. An engaged listener and strong communicator, Amanda applies her extensive knowledge to guide teams in solving complex challenges by coordinating and detailing successful projects. Amanda has contributed to a variety of projects including the MAC Baggage Claim / Ticket Lobby Improvements – South End, Lake Elmo Swim Pond Improvements, Promega Research Development Center, and multiple S+T projects with Entegris.
Lisa Greer
Since joining Alliiance in 2014, Lisa has been responsible for accounts receivables, including receiving client payments and payment to our consultants. Her responsibilities include the management of Alliiance's US Bank SharePoint portal that is used to make deposit and payments, while providing third-party fraud mitigation. Lisa appreciates being surrounded by a committed and supportive office team. Her positive attitude, while providing fundamental support to our practice, is outstanding and helps the firm to deliver on our goals of quality design and exceptional service to our clients.
Rea Haberer
Rea excels at designing spaces that are both beautiful and functional since joining the firm in 2017. Her experience at Alliiance has crossed multiple studios including airports in Lincoln, NB, Paducah, KY, Spokane, WA, Memphis, TN, and Minneapolis-Saint Paul; workplace projects for Butler Square and at the Ecolab Schuman Campus; as well as civic projects for the Minneapolis Convention Center and Peace Lutheran Church. Rea's strong, collaborative spirit is appreciated by clients and her teammates.
Aishwarya Karunanidhi International Associate AIA, LEED AP BD+C
Aish joined Alliiance in 2017 where she is recognized as motivated, talented, communicative, and collaborative. She has a passion for design and channels that passion into architectural competitions, earning multiple awards and honors. Aish has spent much of her time on the MAC team, most notably supporting the Operational Improvements program – Vertical Circulation, South Exit Façade Expansion, and Baggage Claim/Ticket Lobby projects. She has also been involved in design efforts for Fort Wilderness, Williston Basin International Airport, Spokane International Airport, and Clinton National Airport. Aish is a member of Alliance's EDI committee, a Virtual Responder, and organizes Design Guild presentations.
Oleg Kozlovskii AIA LEED AP BD+C, WELL AP
Oleg started at Alliiance as a student in 2014, eventually joining full-time in 2016. He had an immediate impact on our visualization capabilities, leading the Visual Responders group, helping with training, supporting staff, and spearheading the implementation of new visualization tools including our VR setup. Oleg has been a key contributor to the design of many projects, including the Target Center renovation, the Muhammad Ali International Airport renovation, the Medtronic Monument at US Bank Stadium, the exterior skin design for The Alvera apartments, and the on-going work for the Ecolab Global Innovation Center. Oleg was recently a finalist in the prestigious Ralph Rapson Study Fellowship competition.
Andrea Nagy NCIDQ, IIDA
With a passion for connecting the human experience with the built environment, Andrea is committed to creating spaces for clients that are beautiful and functional as well as unique and memorable. Since joining the firm in 2019, Andrea has worked on numerous airport interiors projects and understands the importance of durable, timeless, and sustainable finish selection. Her experience includes work at ten airports including Louisville, Birmingham, Lincoln, Milwaukee, and Minneapolis-Saint Paul.