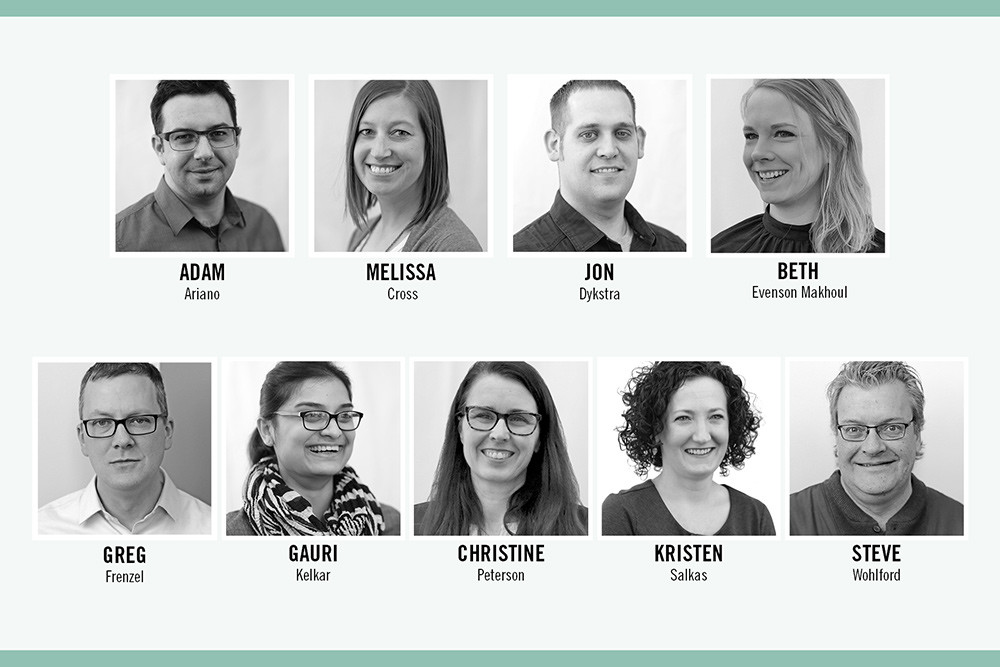 Alliiance Promotes Nine New Senior Associates
Adam Ariano AIA
Adam joined the firm in 2011 and has exceled in the design of high-visibility public projects. Working directly with stakeholders and end-users, he continually strives to improve people's experience of public spaces through design. He has made valuable design contributions in our Aviation and Lifestyle studios including projects at the Minneapolis-Saint Paul International Airport, the Memphis International Airport, and the Barkley Regional Airport. He has played a key role on the Alliiance Design Direction committee fostering our design culture through pin-ups, presentations, and training. He served as the Co-Chair of the AIA MN Committee on Design, where he led the effort to modernize our state's awards program to prioritize sustainability, equity, and diversity.
Melissa Cross AIA
Since joining Alliiance in 2014, Melissa has provided design, document development, and management on a wide range of projects including Buffalo Wild Wings, Memphis International Airport, San Diego International Airport, Oakland International Airport, and numerous projects for the MAC. Recently her efforts have focused on the design management and construction administration for the Baggage Claim/Ticket Lobby Operational Improvements projects at Minneapolis-Saint Paul Airport. She proactively engages stakeholders and effectively communicates among the design team. Her clients have expressed gratitude for her responsiveness resulting in repeated and extended work with those clients.
Jon Dykstra AIA
Since joining Alliiance in 2011, Jon has been an important contributor to the early design and delivery of many Public, Workplace, and S+T projects. His passionate, eager, and infectious approach to our projects is highly desirable. Jon brings a great attitude and sense of humor to his teams, while mentoring along the way. He leads the Revit Responders group, design delivery initiatives, and contributes to the firm's expanding application of REVIT. Jon evaluates, develops, and shares the most effective and efficient ways to deliver our projects and serve our clients.
Greg Frenzel AIA
Since joining Alliiance in 2015, Greg has exhibited and practiced exceptional client and project management skills, as well as demonstrated dexterity overseeing project activities and leading client relationships. Clients have commented that Greg offers succinct and clear communications and is adept at navigating complicated processes to achieve a desired outcome. He grasps and translates the "Big Idea" through effective leadership of teams. Greg's commitment to teamwork and quality project execution is reflected in projects such as the Minneapolis-Saint Paul Airport Operational Improvement Program and the Lincoln Airport renovation.
Gauri Kelkar Associate AIA, LEED AP
Gauri joined Alliiance in 2014. Her technical acumen, attention to detail, and thoughtfulness on how buildings are put together have elevated Alliiance's S+T projects. Gauri is a highly motivated and effective communicator, who collaborates well with team members and other project stakeholders. Her positive attitude and willingness to learn and share knowledge make the work more enjoyable and the projects better. As a Revit Responder, she takes keen interest in the quality of drawings to convey design intent. Her recent projects include UMN Moos Tower Cancer Center Remodel, Hennepin County Public Works Office Remodel, Medtronic PRL BSL2 Lab Remodel, and Cargill Animal Nutrition Center.
Beth Evanson Makhoul AIA, CID
Beth joined Alliiance in 2017 and quickly became a key contributor to many aviation projects, including terminal redevelopment and expansion planning at Milwaukee Mitchell International Airport, Cherry Capital Airport, and Idaho Falls Regional Airport. She has supported several aviation pursuits while expanding her contributions beyond the Aviation studio, to projects such as the Alvera common space design and the planning for the Ecolab Global Innovation Center. Beth is a member of the firm's Design Direction group and contributor to Areas of Excellence initiatives. Beyond the firm, Beth is active with AIA MN, the Minnesota Design Team, and has been a mentor and guest critic with Dunwoody and the ACE program.
Christine Peterson AIA
Christine joined the Alliiance team in 2016. A highly experienced project architect, she continues to deliver and manage complex S+T projects for some of Alliiance's most demanding clients. Christine's leadership on multiple UMN projects continues to cement Alliiance's reputation as an expert in research lab project type. As a team leader, Christine brings technical rigor to her projects as well as mentoring team members on how to deliver exceptional documents. Her recent project includes Project Ice Castle, Plumber's Local 15 Training Center and Offices, MN Department of Agriculture and Health Laboratory Remodel, and series of UMN lab renovations in Moos Tower, Dwan, and Nils Hasselmo buildings.
Kristen Salkas AIA
Kristen started with Alliiance in 2014 with a passion for S+T projects. She has continued to sharpen her skills as a lab planner where her aptitude for understanding lab processes results in informed and effective communication with clients leading to better designed labs. Kristen's collaborative and communicative work style has resulted in strong working relationships for multiple clients. Her recent projects include Riverland Community Center Transportation, Trade, and Industrial Education Center, General Mills Wing 16 renovation, UMN School of Dentistry Feasibility Study, Plumber's Local 15 Training Center and Offices, MN Department of Agriculture and Health Laboratory Remodel, and Cargill Animal Nutrition Center.
Steve Wohlford AIA
Steve joined Alliiance in 2016 and has served as a primary resource and mentor for Alliiance staff ever since. He is a high performing senior project architect with exceptional technical expertise that fosters the confidence and respect of others. Steve is a proactive problem solver who works closely with clients and stakeholders and is very adept at keeping his teams coordinated and on track. Beyond project work, he contributes his expertise to firm initiatives including Revit Responders, BIM Committee, MAC Specs Committee, MAC Best Practices Committee, SWAT Exterior Envelope and Specifications teams. Steve's primary focus has been serving the Minneapolis-Saint Paul Airport on projects that include Baggage Claim/Ticket Lobby Improvements, South Security Exit and Facade Expansion, and North Facade Expansion.