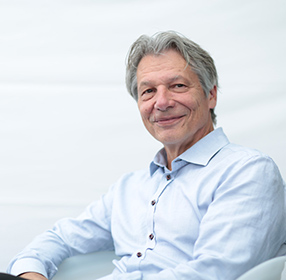 Thomas Deangelo
FAIA, LEED AP
In a career that has encompassed practice, teaching, and community leadership, Tom has built a reputation for innovative solutions that reflect the unique aspirations of his clients while benefiting the community and enhancing the design landscape. Tom brings a holistic perspective to multifaceted project and searches for clear and smart solutions to design challenges.
Since 1978, Tom has directed the design of a diverse array of workplace, academic, civic, and community projects at Alliiance, resulting in numerous national and regional awards. His appreciation for the relationship between exemplary design and team-oriented culture has fostered the firm's creative collaborations on a number of complex and technically challenging projects.
A graduate of Columbia University and the University of Minnesota, Tom has served as an adjunct associate professor at the University of Minnesota and president of AIA Minnesota and Alliiance. He is an advisory board member for the Hill Country Science Mill in Texas and a commissioner with the Minneapolis Public Housing Authority. A native of Iowa, Tom enjoys travel, writing, sketching, golf, and fly-fishing.
REPRESENTATIVE PROJECTS
Civic & Community
Guthrie Theater, Minneapolis, MN
Target Center Renovation, Minneapolis, MN
TCF Bank Stadium, University of Minnesota, Minneapolis, MN
Science Mill, Johnson City, TX
Hennepin County Public Works, Medina, MN
St. Paul City Hall/Ramsey County Courthouse, St. Paul, MN
United States Courthouse, Minneapolis, MN
Academic
Cancer and Cardiovascular Research Building, University of Minnesota, Minneapolis, MN
Physics and Nanotechnology Building, University of Minnesota, Minneapolis, MN
Cargill Building for Microbial and Plant Genomics, University of Minnesota, St. Paul, MN
Workplace
Allianz Life Corporate Headquarters, Golden Valley, MN
Securian Corporate Headquarters, St. Paul, MN
Blue Cross Blue Shield of Minnesota, Eagan, MN
St. Jude Medical, St. Paul, MN
Bayer Interventional, Coon Rapids, MN